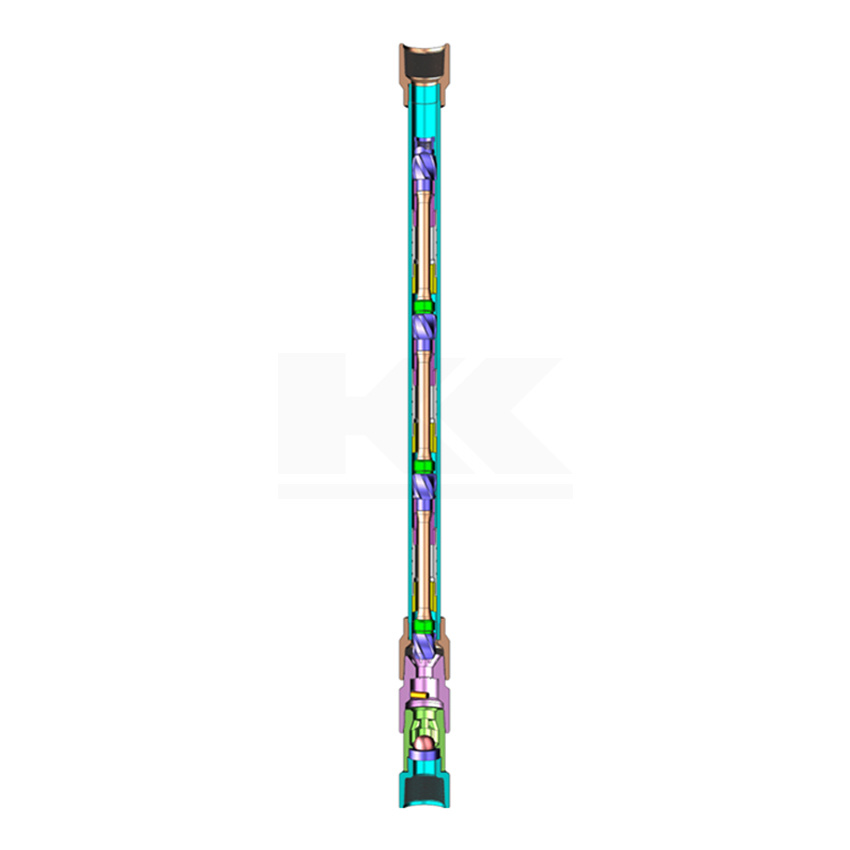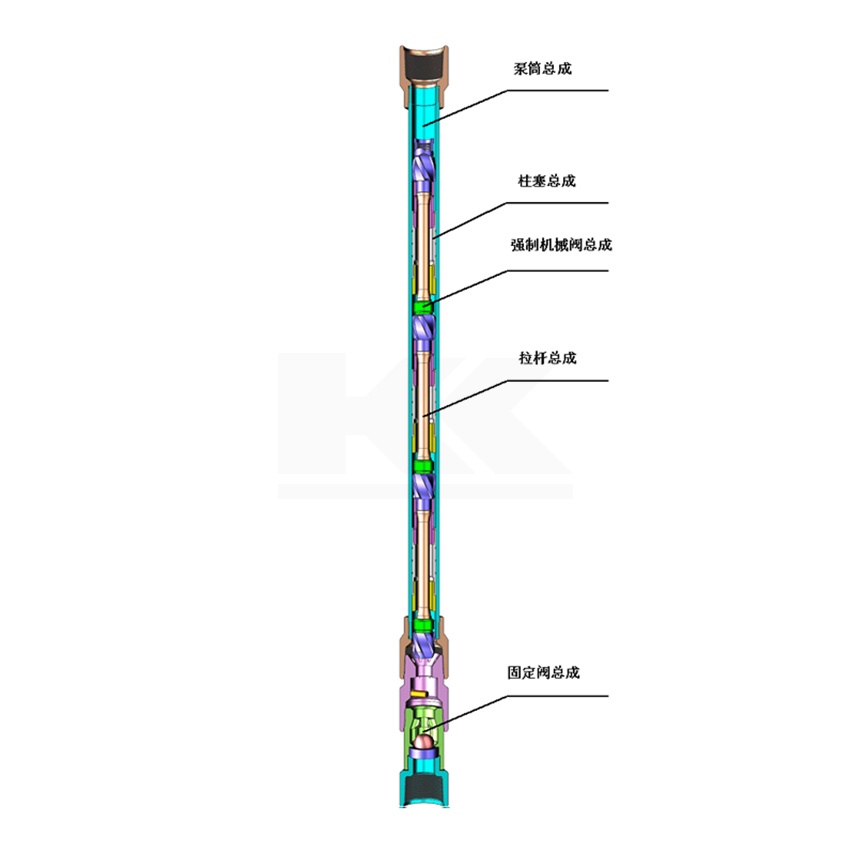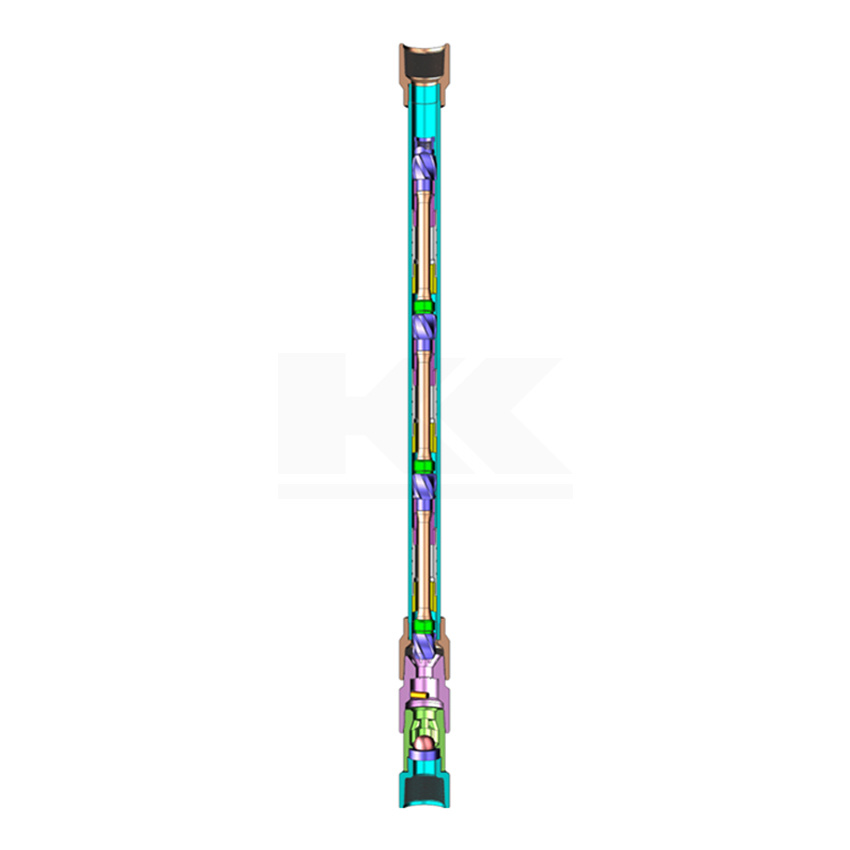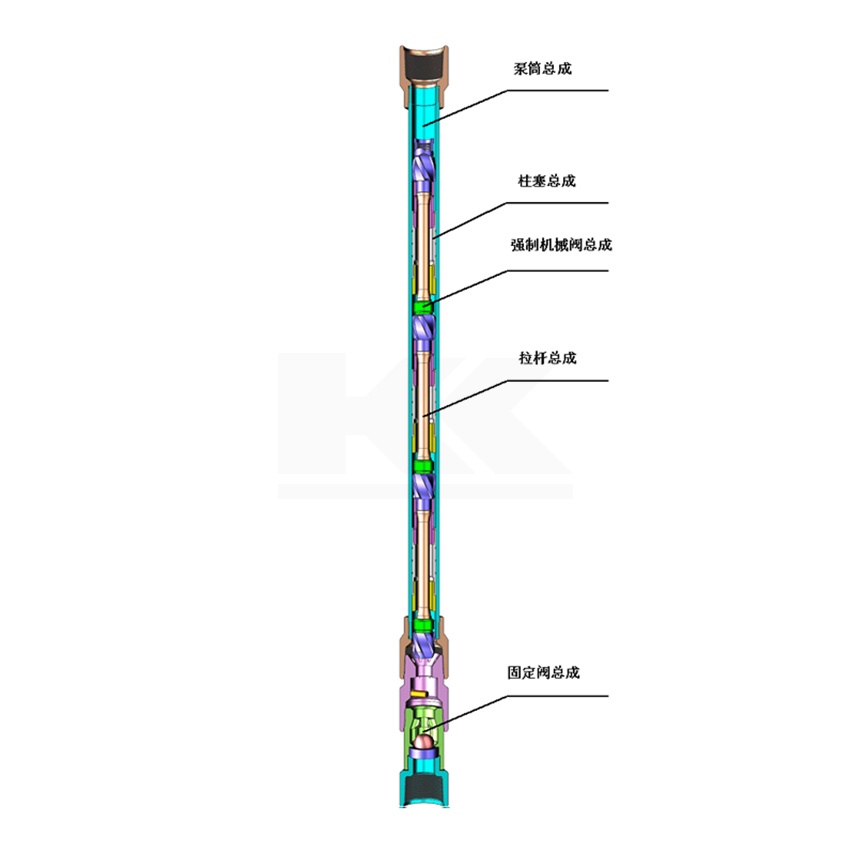 Anti-air Pump with Forced Mechanical Valve
---
Anti-air Pump with Forced Mechanical Valve
---
Introduction
This pump is applicable to anti-air wells. The plunger travelling valve adopts the mechanical forced open/close structure, which can effectively avoid the pump air lock and pump low efficiency problems.
It has 3 short plungers. The travelling valve can be forced open/closed, more easily automatic reset, which can avoid the large leakage and low working efficiency because of pump barrel bending.
This pump is applicable to the conventional well, sandy well, high-deviated well, horizontal well, high gas well, light oil well, heavy oil, steam-stimulated well and steam flooding wells.
Structure and Working Pringciple
1)Structure Features: The pump break through the traditional plunger structure, adopting 3 entirely independent plungers of sealing unit structure, where each plunger is mutually independent, and is opened and closed by force to act anti-air function.
For the plunger sealing unit between the center rod and rod string is in the unbound state, when applying in the anti-air well and horizontal well, the eccentric force of the rod string acts on the metal spiral centralizer, which bears the eccentric wear, it can
effectively eliminate the eccentric wear on the sealing fittings of the pump. Meanwhile, the metal spiral centralizer can ensure that the travelling valve can seal itself with normal setting seal to avoid oil leakage.
2)Working Principle
During pumping, plunger moves up and down by reciprocating of sucker rod.
When up-stroking, by reciprocating of sucker rod, the mechanical travelling valve on the valve rod is closed and the standing valve is open, and the well fluid on upper plunger flows into upper tubing. At the same time, well liquid is forced into barrel bottom from standing valve by the pressure of the pump inlet.
When down-stroking, the standing valve is closed, and by reciprocating of sucker rod, the valve rod goes downwards, then the mechanical travelling valve is open. Then well fluid in bottom barrel flows into top barrel through plunger bore. By reciprocating of valve rod, the mechanical valve is forced open and closed, which can avoid the problem that the travelling valve can't be opened smoothly because of air-lock.
Technical Parameters
Nominal Diameter

Stroke Length

THD size

Max O.D.

Barrel THD

Sucker Rod THD

φ44.45

1.8-6.0

27/8″ TBG

3/4″

Ф88.9

φ57.15

1.8-6.0

3/4″

Ф88.9

φ69.85

1.8-6.0

31/2″ TBG

7/8″

Ф108

Φ82.55

1.8-6.0

4″ TBG

1″

Ф114

Φ95.25

1.8-6.0

4 1/2″ TBG

1″

Ф132